11 Jan

Let's Go Back To Nature

I've been very particular about my skin for the past couple of years. The largest organ of your body is your skin and while every part of you is important, taking care of your skin should be a priority. See I have pretty sensitive skin and I grew up with a lot scars from mozzy bites 🙁 whenever i see little marks on my skin i just get a tad bit upset. So for me i'm always on the look out for good skin products and i'm a big fan of skin products that are friendly to the environment.

Recently I was introduced to Back To Nature a new skincare product that claims to be great for the skin and also for the environment. It is also the first ever skincare  product in Malaysia that adds shea butter into all of our soaps plus pure essential oils that has healing purposes.
Here's a bit of info on Back To Nature concept and products
All the products are made from the finest flower and plant essences to the higher standard, we use only food/natural grade ingredients and most of it is "organic" or "wild grown". 98% of our raw materials are imported from producers that are employ earth friendly and sustainable harvesting practice.
As i mentioned it is also environmentally friendly, completely biodegradable and never tested on animals. The products are manufactured in a pollution free manner in harmony with our environment and conserving resources by using recycled packaging materials whenever possible.
Here we have the Back to Nature Bath Salts. I personally really like the "Ancient Oasis" scent. At heart i'm a very earthy and sea breeze kinda girl.
Below are bath melts. I have yet to use mine cause i seriously find it too pretty to use. That aside the fragrant smell is enough to leave you spinning for a bit.. so can you imagine what it'll be like in the bath? Oh and here's an interesting use of it. if you don't want to use it in your bath.. that's ok, you can also place it in your car as an air freshener.. AHA!
And the soaps.. oh man i have to tell you about the soaps. They make your skin squeaky clean, which was the feeling i got after using the "Honey and Italian Lemon". Unlike your normal body washes where the smell just seems to evaporate into the air. I was delighted that the smell from the bar soaps just lingered on for quite some time, even after the bath! Great stuff!
If you are a perfume lover or you just enjoy smelling nice stuff all day long, you will probably enjoy their Aromatherapy series. The pendant you see here is meant for you to put in some of the aromatherapy oil and throughout the day you can breath in your favourite scent. Lavender anyone?
Below are just some of the aromatherapy pendants available and also soap holders which are made out of what looks to be coconut bowls that have holes to allow the water to seep out. Very balineseeee no?
something i would love to try but didn't get the chance to. Working out a lot has caused me to lose size.. and sadly that means i do have stretch marks.. i admit that. If you have a stretch marky problem like me, try the "Belly's Best Friend" and tell me if it works!
oooo i had loads of fun looking at the Bath, Body and Massage range. They have some really interesting massage oils and i thought some of the names were so cute. I'm such a sucker for adorable things.. hehe. Like i loved the "I am Woman" oil which is of course meant for you to attract the opposite gender. Come to mama hehehe. 
But not leaving out the other sex, there is also a scent for the males to attract the females. Of all names given it's called… "Man Stuff".. ooooooo just.. ooooooOOOOoooo
Pheromones are a calling. hahaha
 And now here's the Baby and Maternity range. So cute there's one product called  "Happy Bum Bum" i had such a laugh when i read it.
Oh and if you need to get someone like your sister or your girlfriend a gift. They have sets all ready for you. 
There's even a gift set for baby showers too!
Cam-whoring for a bit ala phone timer style with Bridgette
With Isabella of Back to Nature and the girls!
Here are the founders of Back to Nature: Bella's Parents! 🙂 photo courtesy of 
Kate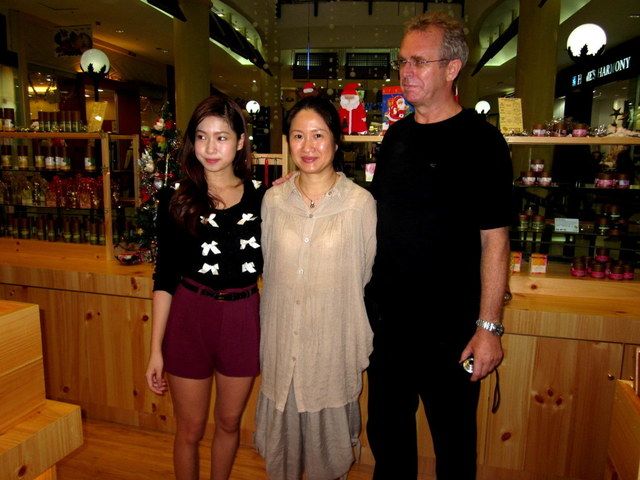 Once again thanks so much to Bell from Back to Nature for the products and hospitality of taking the time to show me and the
Malaysian Hottest Bloggers
around your kiosk.
Here are the goodies that i got.
Natural Bubbling Bath Melt, Natural Bath Salt, African Shea Butter Anti-wrinkle Eye Cream, Hand & Body Butter, Body & Massage Oil etc worth RM250 altogether.
 After going through all the cute and natural goodies, what do you think of Back To Nature's products and concept?
Wanna sample some of their stuff for yourself, give them a visit at these locations :
1. The Mines Shopping Mall Unit L2-K5 ,LEVEL 2 (opposite Watsons) 
2. VIVA Home Mall 1st floor Fashion Bazaar K81
Driving to much of a hassle, good news for you! They've recently opened up their online shopping too! Do check out our their site and get your back to nature essentials today.
Website: http://www.backtonature.com.my/
Facebook:  http://www.facebook.com/pages/BACK-to-Nature/267358403294054